| Home | About Us | About Hemp | Medical Marijuana | Contact | Meetings | FilmFests | the Med Bowl | Calendar | Events | Sign-Up | Subscribe | Bulletin Board | FeedBack | News | Links | Media | Write On | Vote | Legislation | Biz | Orgz | Gallery | Library | Newsletters |
---

Events > Emerald Empire Hempfest
Info on Eugenes Emerald Empire Hempfest as well as any related Items. Click > here < for more events.

---
[ Quarter sheet in WORD (doc) | Adobe (PDF) version ]
About the Fest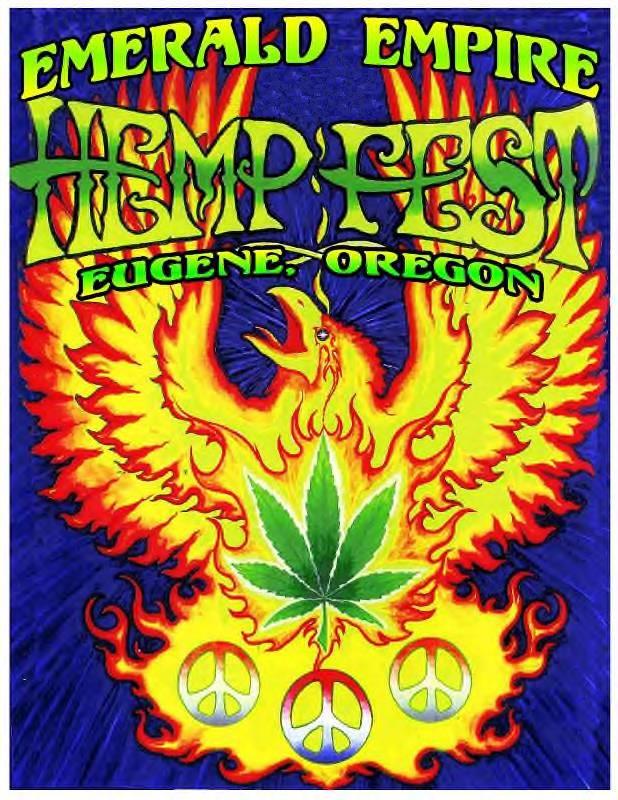 WHAT: the unofficial Emerald Empire Hempfest protest party; WHEN: Saturday, July 16, 11:00am – 8:00pm; WHERE: 3825 River Rd., Eugene, Oregon 97404-1265 * INFO: www.facebook.com/Eugenepotclub * CONTACTs: Dan Koozer, 541-517-0957 * eehempfest@hotmail.com * Normal Bean, 541-525-4559 * normal_b@yahoo.com * Fax: 888-420-1755 * The unofficial Emerald Empire Hempfest protest party - Private membership only; free membership, signup at the event or online. At the Eugene Pot Club Headquarters, Eugene, OR, it is a One day private event for members only. Parking available but very limited (look for parking lot signs), please car-pool, bike or take the bus (LTD Santa Clara #15). NO EVENT PARKING IN THE 7-11 PARKING LOT NEXT DOOR. Music, Speakers and Food Vendors. Open call to speakers, we have time between bands. Please contact Blue Whale at (541) 450-7868.
WHY: To educate the public about the plant Cannabis (HEMP) The annual festival of the Emerald Empire Hempfest will be at Eugene Pot Club Headquarters, in Eugene, this year. We were planning a gigantic three-day blowout celebration with all kinds of fun-filled activities, educational and exciting events, bands both electric and acoustic, a hemp apparel fashion show and new product demonstrations modeled by Ganja Goddesses, raffle and giveaways, cutting-edge speakers, information and education stations, and many fabulous food booths.

But not to be this year.

The unofficial Emerald Empire HempFest PROTEST party, a protest against the denial of the use of Maurie Jacobs Park which EEH has used for six summers through 2015. The EEH event last year was the most well attended ever, the year after the adult recreational use Oregon Ballot Measure 91 passed in 2014, effective July 1, 2015. However, some people were discovered smoking pot in a tent last year and EEH's permit was denied for use of Maurie Jacobs park in July, 2016. DENIAL of the public use of a public space is unconscionable based on the grounds trumped up ~ EEH has hired legal counsel but nothing can be resolved this year to secure the park. Donations appreciated for expenses having the venue at 3825 River Rd., Eugene. Mailing address below.
Our mission is still to provide knowledge about the many uses of hemp in the home, field and factory: as a highly nutritious food whose seeds have prevented famines, as a fiber for cloth and paper, and as a safe source for making products like particle board, cement, fuel, plastic, and paint currently made from toxic fossil fuels.
There will be belly dancing and fire dancers to entertain you, a food court featuring hemp foods and other nutritious foods, art booths, and vendors featuring many hemp products, as well as info and education booths. Guest speakers will discuss the environmental benefits of hemp, medical uses of marijuana, and ways to end prohibition. Please join us for all the fun! Our festival is family-friendly (alcohol-free and drug-free as required by the City of Eugene). No illegal activities will be tolerated. Dogs are permitted on leashes. For schedule, list of bands, directions and more, please go to > www.facebook.com/Eugenepotclub
It's still not too late to volunteer for positions from security to food to Ganja Goddesses.! Our event is 100% non-profit and volunteer. We run on donations. Many thanks to all our sponsors and volunteers!
The Emerald Empire HempFest is an annual event (third weekend in July), usually held in a city park. It is 'Free-to-the-public' event. Education is the primary goal of this all-volunteer effort. There will be two stages with great musical bands, a food court featuring nutritious foods, art booths, and vendors featuring many hemp products, and nonprofit booths. Guest speakers will discuss the environmental benefits of hemp, medical uses of Marijuana and the futility and negative consequences of prohibition. As former organizer Eilleen Erdelt once stated: "The HempFest is a family-oriented event celebrating a God-given plant that has been prohibited by man."
More about Our Mission. The purpose of the Emerald Empire Hempfest is to unite our citizens in calling for sweeping reforms in America's laws against cannabis and hemp. This is a uniquely valuable plant: it provides high levels of key nutrients, relieves symptoms for patients suffering from an array of medical conditions, and can be made into environmentally positive products such as clothing, paper, paint, biodegradable plastics, and replacements for fossil fuels.
Please join us in the fight to roll back prohibition and increase production and usage of one of the world's most beneficial plants. Hope to see you there!
With your help, Hempfest 2017 will be even bigger and better.
CONTACT PERSON: Dan Koozer/541-517-0957 * FAX: 888-420-1755 * or Email Address eehempfest@hotmail.com
---
[ back to > TOP < of page ]
Speaker Call
Despite having produced a yearly event since 2003, it continues to amaze me that people either don't know or forget there is a hempfest in Eugene, Oregon the weekend after the Oregon Country Fair. I'm also disappointed that more Cannabis/Hemp organizations & businesses don't participate.
Oh well, it is what it is.
We expect this year to be another great year for Hempfesting. A small group of VERY dedicated people have spent many hours working on decorations for EEH. We've been working on recruiting and the better organization of our volunteer staff. We've had to extend our hours due to all of the great entertainment provided pro bono.
We are fashioned after the Seattle HempFest, a free-to-the-public event held in a city park educating the public on Cannabis/Hemp issues. Seattle HempFest followed our lead and have expanded to a three-day event. We've been a three-day event since 2007. We have many speaking opportunities between bands so please contact us if you'd like to participate. I don't have time to stroke anyone's ego, if you'd like to speak, we have a platform. No compensation for anyone, we are an all volunteer event and everything is donated.
Speaking of donations, wait until you see our Ganja Goddesses throughout the crowd accepting donations. Just part of the fun. Entertainment & poster (to be printed 11x17) on our website.
I'll be there, you?
Dan Koozer
[ back to > TOP < of page ]
Emerald Empire Hempfest (EEH) Planning volunteer core Meetings
Next Emerald Empire Hempfest (EEH) Planning volunteer core Meeting is TBA; last was at Maurie Jacobs Park, 301 N Adams St, Eugene, OR, 97402, on (every third) Saturday, next is TBA.

Click here to get directions via MapQuest.
[ back to > TOP < of page ]
the Bulletin Board; to Question -or- Comment
INSTRUCTIONS

Enter questions, comments and link info in the NotePad, NOTE - we do NOT automatically capture e-mail address - you must enter it. EDITing is up to you, what you submit is what gets posted. To request further maintenance -or- for more private communications, use the FeedBack form, below.
Post Here
<!AFTER>

Saturday, July 20, 2011 at 10:00 AM:
Just sayin from Eugene, Or. wrote:
" The reason hardly no one comes to this event is because we can't partake of the herb at this event like you can at any other hempfest I have ever been to in California, Washington or anywhere. Have it on private land somewhere! "

Friday, June 19, 2009 at 03:27 PM:
Rebel Dawg from Las Vegas, NV wrote:
"Looking forward to playing with yall up there in oregon, will bring some Double Purple Doja I grew to get the volunteers high while I am there. "
FeedBack form
Maintain an Entry or Give us FeedBack

To change or delete an entry above, or to send a message to us instead of posting it immediately, use this tool. Also you can, Email the webster directly if you have an attachment -or- just want to with your Emerald Empire Hempfest related item.
[ Press Release in WORD (doc) | Adobe (PDF) version ]
[ back to > TOP < of page ]
---
| Home | About Us | About Hemp | Medical Marijuana | Contact | Meetings | FilmFests | the Med Bowl | Calendar | Events | Sign-Up | Subscribe | Bulletin Board | FeedBack | News | Links | Media | Write On | Vote | Legislation | Biz | Orgz | Gallery | Library | Newsletters |